The Covid-19 pandemic has changed homebuyers' perception of distance
By Joseph Wong Josephwong@thestar.com.my
The StarProperty Buyer Sentiment Survey, conducted annually, collates the thoughts of readers and visitors to our fairs to better inform investors, negotiators, developers, and other property stakeholders to help them make more informed decisions pertaining to the real estate industry.
The 2020 Buyer Sentiment Survey, conducted from January to November last year, saw over 1,000 respondents covering up to 50 data points and multiple supplementary mini-surveys. There were several surprises due to the impact of the Covid-19 pandemic which had a massive impact on the property market. The intent to buy remains strong with a whopping 75.4% looking for a home for their own-stay or retirement.
The majority of respondents were aged 28 to 37 years, making 32.3% of potential homeowners. The second biggest group, at 21.5%, were those nearing the retirement age of 48 to 57 years. Those between 38 and 47 years made the third largest group at 18.5%.
Distance to the job
One of the biggest surprises was the shift in distance preference which could have been a factor resulting from the Covid-19 pandemic. When we posed a similar question in 2019,, most respondents preferred to be within 10km of their employment from their homes. In 2020, 55.7% preferred to live between 10km and 30km away from their jobs compared to 28.6% who preferred to be within the 10km zone. Property observers reasoned that the general population did not want to reside in densely populated areas as these areas were more susceptible to an outbreak of the virus.
How far would you be willing to stay from your job?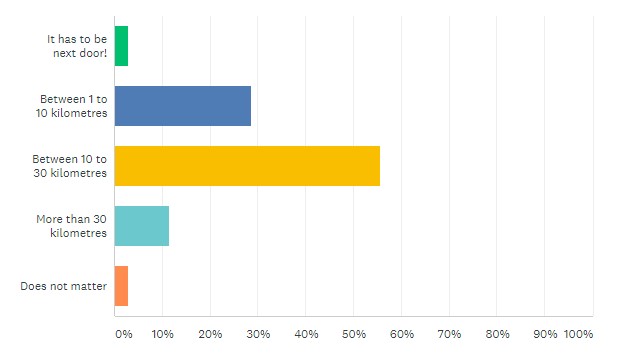 Fear of the virus affecting them and their family members was the main driver to seek out less populated areas on the outskirts of cities and towns. Three quarters of the respondents also pointed out that the search for a new property was for their own stay. Again this is driven by the desire to move away from their current home. There was also a notable drop in the desire to live in co-living arrangements with 71% giving the thumbs down. A total of 72.5% also said no to buying into properties on a co-share basis.
Rent or buy
The debate of whether it is better to rent or buy is fairly balanced elsewhere in the world, but in Malaysia, the opportunity costs of homeownership have been largely seen to be relatively low. In both 2018 and 2019, the sentiments of Malaysians have been heavily in favour of buying rather than renting, with only a minority of respondents firmly in the renting camp, and a slightly bigger minority in 2018 being undecided.
Would you consider co-living arrangements?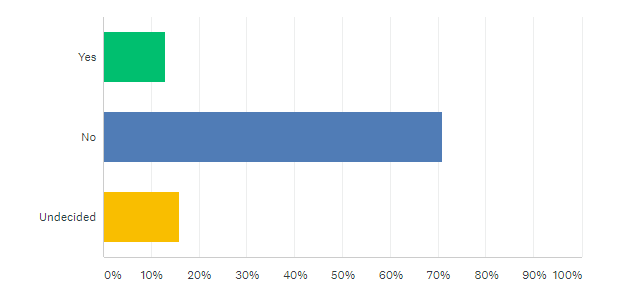 When we posed a similar question (Do you intend to purchase a property in the next 12 months?) in 2019, the opinions we gathered were more optimistic. The majority or 61% of people firmly felt that a real estate purchase was a possibility for them within the year, while 19% answered in the negative and 20% were undecided. This time around, the proportion of respondents who felt that 2020 was a good time to buy a property fell sharply to 47% while those who responded in the negative and had no opinion were 32.4% and 20.6% respectively.
When it comes to going green in 2020, the Covid-19 scare certainly increased the desire for healthier living conditions albeit at a pocket-friendly pricing. At 78.3%, more than three quarters of homebuyers are willing to consider a greener alternative. The remaining respondents did out reject going green out right as this is not a factor that they were concerned with.
Factors influencing buying
The location, location, location mantra remains as the most influential factor affecting buying decisions in 2020. In 2018, the top three factors that influenced buying decisions (in order of decreasing importance) were price, safety, followed by location. In 2019, safety and security fell from the top three in favour of connectivity and accessibility via public transportation or road networks becoming the third most important factor, while price became the second most important and location returned to being the most important factor.
The results for 2020 remain similar to that of 2019 with the top three factors repeating in the same sequence – location, price and connectivity. Respondents selected their top three factors of consideration from a randomly shuffled list of options.
If you could own your ideal home, what kind would it be?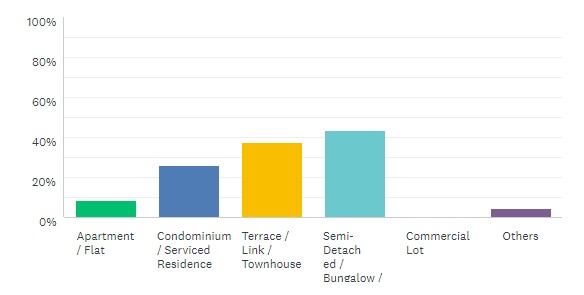 The biggest factor was location at 24.6%, followed by price (21.7%), and connectivity and accessibility (13.5%). Safety and security was ranked fourth at 8.7%, followed by developer reputation (7.7%), facilities, amenities, and public services (5.8%); tenure (freehold/leasehold) (5.8%); number, size, and position of rooms (4.8%); potential rental yield and capital appreciation (2.4%); discounts, rebates, and other incentives (1.9%); as well as facilities and Amenities(1.4%). The other reasons amounted to the remaining 1.7%.
Building types
The 2020 Buyer Sentiment Survey provided respondents with one selection from the choices of common property types. These include flats or apartments; condominiums or serviced residences; terraced homes, linked homes, or townhouses; semi-detached homes or bungalows; commercial property; and finally an open option. The most-preferred property types, as in 2019, remain high-end strata properties and affordable landed homes.
Semidetached homes or bungalows raked up 36.2% while terraced homes, linked homes, or townhouses came in second at 31.3%, followed by condominiums or serviced residences (21.7%); flats or apartments (7.2%); and other options took the remaining 3.1%. Commercial property scored zero showing an all-time low for this type of property as a preferred home.
Price factor
Another mainstay of the annual Buyer Sentiment Survey is the question of how much respondents would be willing to spend on real estate purchases. The majority of respondents (71%) were found to prefer properties priced below RM500,000, with the larger portion of respondents (40.6%) sharing fairly realistic expectations of prices between RM300,000 and RM500,000 and 30.4% seeking properties less than RM300,000.
The remaining 29% place their price expectations above RM500,000, with 15.9% seeking homes priced between RM500,000 and RM700,000, and smaller groups of those seeking properties priced between RM700,000 and RM900,000 (8.7%) and those looking at properties more than RM900,000 (4.4%).
States of preference
The preferred locations of respondents to the annual Buyer Sentiment Survey often makes for one of the more controversial results. While Johor was found to be the state where most buyers were seeking properties in 2018, but in 2019 Selangor and Kuala Lumpur are still the favoured locations of the majority of prospective buyers.
In 2020, there was little change with Selangor and Kuala Lumpur retaining their first and second spots respectively. Penang and Pahang tied for third spot. The shift was in the percentage of preference. Last year saw 42.8% preferred Selangor compared to 46% in 2019 while Kuala Lumpur garnered 24.2% compared to 2019's 35%. Penang fell t0 5.7% from 12% previously to tie with Pahang. Observers note that while living within the cities' limits were still high on the list, people were beginning to move away from the more densely populated areas due to Covid-19's impact.
Source of information
StarProperty also surveyed where homebuyers derive their information from. Top of the list was online website searches via the Internet at 27.1%, followed by social media (21.8%) and the third spot was shared by newspapers (13.3%), and family and friends (13.3%). The other sources of information were from events (11.2%), magazines (4.3%), radio (3.2%) and television (2.7%). The miscellaneous sources were from pamphlets, brochures, leaflets, banks and notices which made up the remaining 3.1%. The new norm of staying at home amplified the usage of the online medium to seek information.
What is your estimated budget?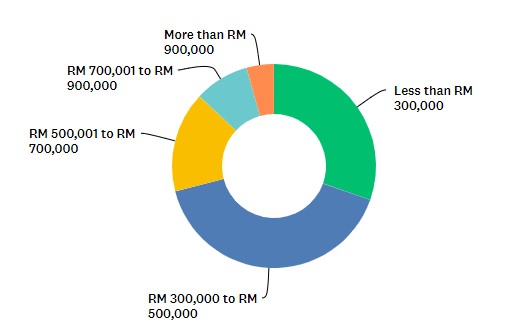 Would you prefer a green (eco-friendly) development over a non-green one if prices were roughly the same?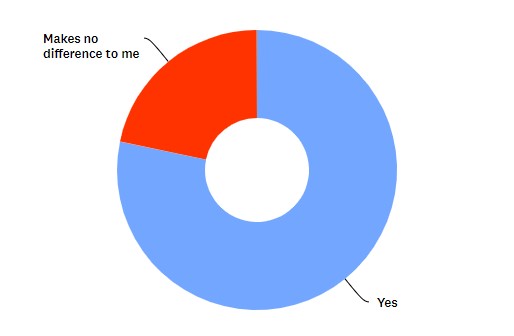 Do you feel that now is a good time to buy a home?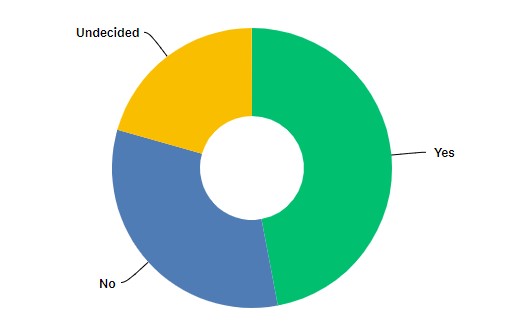 Despite of the MCO, are you still thinking of buying a property?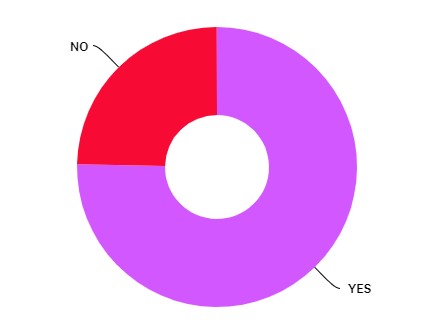 Which type of properties are you looking for?
---
Stay ahead of the crowd and enjoy fresh insights on real estate, property development, and lifestyle trends when you subscribe to our newsletter and follow us on social media.