Exciting additions for the award-winning development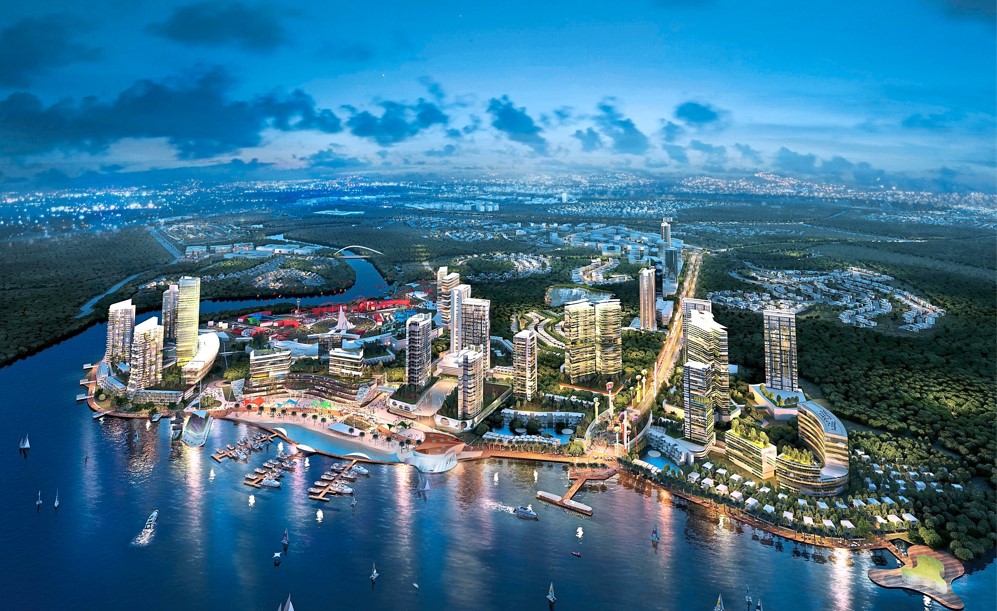 As a master community developer, Sunway Property's aspiring township Sunway City Iskandar Puteri is centred around five key pillars of accessibility, connectivity, environment, community and security. While remaining environmentally sensitive and ecologically conscious, its blueprint is designed to complement and accentuate its geographical makeup.
Sunway City Iskandar Puteri is a low-density green township development underscored by Sunway Property's unique Build, Own and Operate model, thus creating the Sunway City Iskandar Puteri Golden Triangle – a thriving commercial hub anchored by a sizeable shopping mall, nature-inspired activities and world-class entertainment, education as well as medical hubs.
Planting the seeds of community
Sunway City Iskandar Puteri was conceived in 2012 to nurture a vibrant, engaged and resilient community within the primary development corridor of Iskandar Malaysia. The township comprises six spectacular districts, namely the Lakeview Precinct, the Parkview Precinct, the Marketplace Precinct, the Seafront Precinct, the Capital Precinct and the Riverside Precinct. Each precinct is befittingly named and meticulously fashioned as a self-sustaining integrated city.
This 1,800-acre world-class development with a gross development value (GDV) of more than RM30bil sees the hallmark of Sunway's seven synergistic components of education, hospitality, theme park, retail, residential, commercial and healthcare.
All within one secure, transit-oriented, master-planned development, Sunway City Iskandar Puteri is shaping up to be Sunway's largest integrated township yet and will be home to some 200,000 people. As one of the earliest developments of the township, the Sunway Citrine Residence and Hub in the Lakeview precinct comprises a collection of residential, designer offices and retail space overlooking the 20-acre Sunway Emerald Lake, as well as the Events Gallery and Sunway City Iskandar Puteri's nursery.
Meanwhile, Sunway Emerald Residence marks the first landed development within the vicinity, followed by Sunway Citrine Lakehomes as an extensive development accommodating a gated and guarded community with a community centre equipped with indoor and outdoor facilities to foster healthy and active lifestyles.
Also nestled within the Lakeview Precinct is Sunway International School (SIS) Iskandar, sister campus to the flagship RM300mil Sunway International School in Sunway City Kuala Lumpur. Moving on to the Marketplace Precinct, which doubles as the township's cultural and commercial melting pot, Sunway Big Box Retail Park is the first-of-its-kind in Malaysia.
The hybrid retail park is a 24-acre engagement space, offering both an open-air strip mall environment as well as the comfort of an air-conditioned mall experience with direct access to X Park Sunway City Iskandar Puteri and the first Sunway hotel in Johor, the newly opened Sunway Hotel Big Box.
Poised to become a one-stop recreation centre for locals and tourists alike, Sunway Big Box Retail Park is strategically located just five kilometres away from the Malaysia-Singapore Second Link via the Coastal Highway Southern Link (CHSL) and just five minutes away from X Park Sunway City Iskandar Puteri.
As the largest outdoor sports premises sprawling over 32 acres, X Park caters to the needs of sports enthusiasts and adrenaline junkies with a variety of action-packed adventure and extreme sports such as go-karting, ATV, watersports, mountain biking, motocross, rock climbing, archery and paintball, plus housing 40 glamping villas ideal for ecotourism and short getaways.
In addition to X Park, the newly opened Sunway Hotel Big Box offers guests access to a verdant playground with nature and adrenaline-fuelled activities. Sunway City Iskandar Puteri is also meticulously planned with smaller roads and main roads connected to major highways to make commuting easier for residents.
The main roads that serve the green township are Lebuhraya Bukit Indah and the Iskandar Coastal Highway, previously known as Johor Bahru West Coast Parkway. Several new roads will be built to facilitate greater access to the new housing developments. This includes connectivity to education venues, entertainment attractions and major highways.
Furthermore, getting out of Johor Bahru is made easy for Sunway City Iskandar Puteri residents, with connectivity to the North-South Highway via the Johor Bahru-Singapore Second Link Expressway which is a bonus for those working between Malaysia and Singapore.
More than just a namesake
Sustainability is also at the forefront of Sunway City Iskandar Puteri, and it is more than just providing lifestyle and entertainment options to residents. With sustainability being a hot topic in the last few years, many property developers have tried to stake their claim in their projects and build their portfolio by showcasing their corporate social responsibility (CSR) initiatives.
But for Sunway, they walk the talk. Their 1,800-acre integrated township is being built as a green city from the ground up, one that respects and preserves Mother Nature while allowing residents to live comfortably with modern conveniences.
Dubbed as Nature's Capital City, Sunway City Iskandar Puteri is built in harmony with nature, which ties back to the township's conscientious planning where the city meets nature. And with 40% of the development dedicated to greenery via parks, green pockets, bodies of water and green corridors, the township is elevated from a traditional township to a future-forward, low-carbon sustainable city.
One green initiative, for instance, is by replanting trees and shrubs. Sunway Group has been painting their town green by using urban forestry to remain true to its sustainability goals and gentrify its neighbourhoods, improve air quality, and reduce ambient temperatures as a concerted effort to tackle climate change.
To date, they have planted over 15,000 trees to combat deforestation and its effects on the local climate. Through its Sunway Nurseries initiative, the group has set its idealistic goals to reduce the atmospheric level of carbon dioxide, avoid severe flooding in their developments, protect the soil in the area, and stave off the extinction of flora and fauna species endemic in the country.
Moreover, Sunway City Iskandar Puteri is thoughtfully planned around the 20-acre Sunway Emerald Lake, where residents can enjoy the scenic water feature and have a picnic, jog, cycle or simply admire the vista in all of its natural glory.
Another example of the master developer's dedication to sustainability is the installation of solar panels on the rooftops of Sunway Big Box Mall, Sunway International School and the soon-to-open SJK C Cheah Fah, as well as incorporating rainwater harvesting and green label product initiatives.
Sunway City Iskandar Puteri chief executive officer Gerard Soosay shared that in order to form a healthy yet thriving community, the need for green townships is a key component to sustainability. "How we cope with environmental conflicts starts with the home and community that we live in," Soosay said.
"As a master community developer, we remain committed to the residents. We aspire to make the community living in our township inclusive, safe, resilient and sustainable. We are determined to have our townships and developments provide to its residents a healthy, safe and well-connected environment for all to live, learn, work and play within," he said.
There are more upcoming green initiatives in the works too. Special buffer zones and a wildlife sanctuary were created to protect both flora and fauna of Sunway City Iskandar Puteri. The Pendas River monitoring system was also established to ensure its longevity. At Sunway City Iskandar Puteri, the love for Mother Nature is embedded in the city and its residents.
Accolades abound
This year, Sunway City Iskandar Puteri has won four StarProperty Awards 2021 accolades, living up to its moniker as Nature's Capital City with developments comprising a collection of noteworthy residential, designer offices and retail space.
Living at Sunway City Iskandar Puteri means that you have everything you need at your doorstep. With conveniences like Sunway Citrine Hub, Sunway Big Box Retail Park, Sunway GRID hub, X Park, and the newly opened Sunway Hotel Big Box, residents would never be missing anything vital.
It is also worth mentioning that Sunway GRID Residence is Malaysia's first property development that is fully customisable based on individual preference and is certified by the Malaysia Book of Records. Sunway GRID also won the Creative Space Award in Excellence at the StarProperty Awards this year.
As a recipient of that award, Sunway Property's developments utilise space seamlessly to offer elegant and spacious living. With state-of-art amenities together with built-in technological infrastructure, these developments make full use of the space of small homes to fit modern living requirements.
One of their other recognitions from the StarProperty Awards is the Cornerstone Award for the best-landed development. Sunway City Iskandar Puteri received this award for its array of diverse amenities, furnishing, and fittings that were curated to meet buyers' discerning criteria along with its strategic location and ease of access.
Going back to the township's focus on marrying wood and concrete, Sunway Property also secured the Earth Conscious Award for the best sustainable development. It comes as no surprise they have also previously received green certifications such as the Green Building Index (GBI) silver rating for Sunway City Iskandar Puteri.
As 2022 inches closer, Sunway City Iskandar Puteri looks to bolster its township and community in hopes of nurturing a vibrant, engaged and resilient community within the primary development corridor of Iskandar Malaysia with more additions to the Johorian township.
What's there to look forward to?
Following the aforementioned recent launch of Sunway Hotel Big Box in October this year, NEC Corp Malaysia Sdn Bhd (NEC Malaysia) also has big plans to make its mark in Sunway City Iskandar Puteri. The corporation plans to open its innovation centre of excellence come January 2023 at the Sunway Big Box Office Tower.
NEC Malaysia's Innovation Centre of Excellence, currently located at Sunway Citrine Hub, will expand its office to Sunway Big Box Office Tower in the second quarter of 2022. It serves as their managed services and contact centre operations for their customers in the Southeast Asian region.
Soosay said that with the expansion of NEC Malaysia to Johor, they would be able to reach out to the customers in the Southeast Asian region to provide them with more efficient services with its cutting-edge customer experience. "This is a testament that Sunway City Iskandar Puteri is a township that has the strong potential to grow as a smarter society – a township well-positioned and developed to house local and international organisations.
"Being an integrated and sustainable township, we are here to cater to the needs of our people and that includes the availability of various facilities to ensure a work-life balance. We believe this will bring harmony and further build a relationship within the corporation.
"Tenants will have ample options to look forward to, from several food and beverage outlets to try out, SJK (C) Cheah Fah will offer yet another education option when it opens its doors next year leisure and sports activities for team building, and our newly opened Sunway Hotel Big Box to accommodate business partners and more," said Soosay.
More excitingly, in 2022, Sunway City Iskandar Puteri is looking to obtain its freehold status, which will appeal to more potential residents and show that Nature's Capital City is the preferred township for potential residents to live in.
Education options are also catered to as Chinese vernacular school SJK (C) Cheah Fah is expected to be completed and ready to take its first registrations in the first quarter of next year.  Sunway City Iskandar Puteri will also be launching a series of landed properties to cater to the needs of modern homebuyers.
With future-proof homes within a prime location of their integrated township, the potential for capital appreciation and strong rental growth is high. Adapting to the new norm post-Covid-19, the upcoming landed series will feature a spacious and flexible layout while including elderly room provisions with elderly friendly toilet ensuites, with a gated and guarded community as security is always a priority for Sunway.
One of these future developments already in the pipeline in the township is Sunway Maple Residence, a townhouse project comprising duo-living landed homes that are expected to be launched in Q3 next year. With its prime location, excellent accessibility, as well as world-class amenities and facilities, the master community developer only has more to show expectant homebuyers in the upcoming year and after.
Besides that, the development also aims to open its second Starbucks concept store with a drive-thru facility. The master community developer will also be focusing on green tourism initiatives such as the X Park expansion for motorsport, horse riding, catamaran and a global learning village in Sunway City Iskandar Puteri.
---
Stay ahead of the crowd and enjoy fresh insights on real estate, property development, and lifestyle trends when you subscribe to our newsletter and follow us on social media.