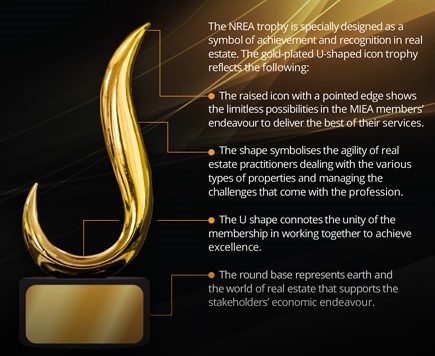 The year 2009 marks an important year in the history of the fraternity as then president K Soma Sundram introduced the MIEA National Real Estate Awards as part of his MIEA National Programme. 
The inaugural launch at the 32nd Annual dinner saw fine winners from seven categories. Today it has grown to 20 categories with over 30 winners. What seemed impossible then has now proven to be the most important recognition of the achievements of real estate practitioners in Malaysia. 
The MIEA National Real Estate Awards has grown in stature and popularity, and is well received by its members, practitioners, the public and the government. As anticipated, the MIEA National Real Estate Award has not only become a measure of success but a symbol of achievement of excellence by real estate agents, firms and negotiators. 
The past winners have achieved numerous recognition through the Awards. Business opportunities have widened, recruitment of staff has become easier and public confidence has deepened and this has catapulted them onto the international stage. It is a proven fact that the NREA has had a powerful impact on those who have won their respective categories. The profession has gained recognition from all angles and the Awards is the only national award that truly recognises the Gold Standards in the real estate profession.
---
Stay ahead of the crowd and enjoy fresh insights on real estate, property development, and lifestyle trends when you subscribe to our newsletter and follow us on social media.